For connecting pipes of PE-HD/PP to cast iron sewage pipes
| DN | Stück VPE | Art.-Nr.: |
| --- | --- | --- |
| 50 | 50 | 300050 |
| 70 | 50 | 300070 |
| 80 | 50 | 300075 |
| 80 | 50 | 300080 |
| 100 | 20 | 300100 |
| 125 | 10 | 300125 |
| | |
| --- | --- |
| German Approval no.: | Z-42.5-299 |
| Material: | EPDM |
| Material locking parts: | W2, worm threaded clamp stainless steel 1.4016, screw free of chrome (VI) |
| Screw size: | cross-slit screw, width 7 |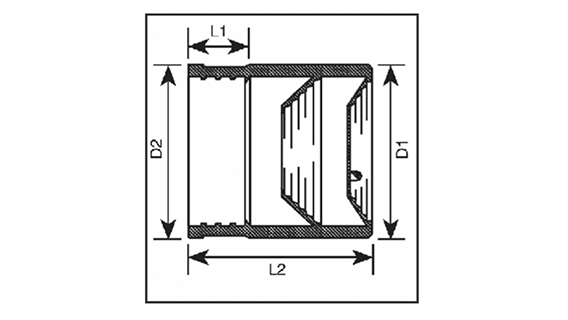 DN
Connecting pipe outer diameter in mm
Einschub-
tiefe in mm
Anzugs-
moment in mm
L1 (mm)
L2 (mm)
D1 (mm)
D2 (mm)
50
40 – 56
42
ca. 2
19
63
72
68
70
56 – 75
55
ca. 2
19
77
92
87
80
56 – 75
55
ca. 2
19
77
92
91
80
75 – 90
60
ca. 2
19
88
108
93
100
104 – 110
65
ca. 2
21
95
128
118
125
125
75
ca. 2
21
103
145
145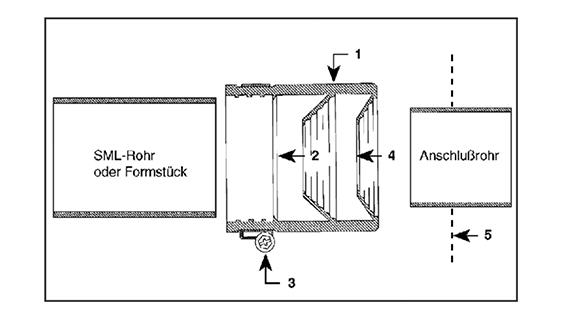 Installation Instructions:
1. Place the reducing coupling (1) on the end of the pipe until it reaches the spacer ring of the seal (2). Use the screwdriver to tighten the clamping strap (3).
2. Place pliers on the opeening neck (4) and completely pull of the lid.
3. Mark the connecting pipe at insertion depth (5). Apply an antiselze agent to the connecting pipe and slide it into the reducing coupling.